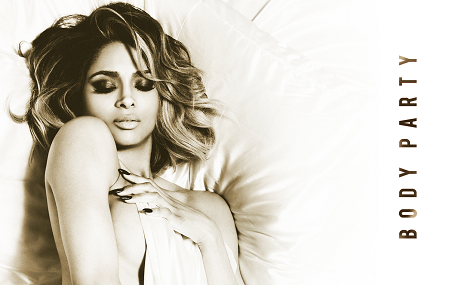 A video with an actual storyline, thank the heavens for this miracle… albeit a very simple and short storyline, but I'll take what I can get. Oh, and thank you too, Ciara.
Body Party sounds like something baby girl Aaliyah, may she rest in peace, would have recorded over a decade ago, and the song really reminds me of One in a Million. However, it manages be a relevant R&B track that has a chance on the Pop charts yet retaining that nostalgic value, although this should probably to credited to producer Mike Will Made It.
Ciara lays down her signature sexy sassy vocals over a slow synthesized 808 beat, never trying too much vocal acrobatics like Mariah or Whitney (but they are still the Queens), and it makes for baby-making magic. The song is pure gold and, hopefully, will put Ciara back on top of the charts. Haven't been so obsessed over a Ciara track since Love Sex Magic back in 2009.
The video itself is a simple boy meets girl at a party story, with an additional fantasy striptease by Ciara thrown in for good measure. The striptease is obviously for the love interest who is played by Ciara's new beau, Future, who also co-wrote the song. Let me tell you, Ciara has never looked as breathtaking as she does in this video. And her hair is amazing. Future is one lucky man. Oh and keep your eyes peeled for Ludacris and Jazze Pha, as both make cameos in the video.