2012 is going to be over in a month (wait, whaaat?!) and 2013 is just right around the corner. A new year brings a new hope and that is exactly what we are expecting from this list of musicians that we feel will be massive in the year to come. From an all-girls band to more singer/songwriters, its an eclectic mix for sure.
1. Haim
Three sisters playing in a band? That's their selling point right there. They released a rather excellent debut EP and their SXSW's show received fantastic reviews, so to say that I'm looking forward to their debut album is really quite an understatement. If Warpaint (another all-girls band) can do it with their trippy and hard-to-get music, I'm sure Haim will be able to get the attention of the masses, considering the likeability of their music.
Check out their hit single, Forever, below:
2. Young & Sick
This year's popularity of R&B crooners like The Weeknd and Frank Ocean is paving the way for more R&B musicians who sing sick, dark and twisty tunes. Young & Sick is one of them. Coming from Los Angeles, the gentleness of his voice masks the dark messages of his songs, and this irony is his selling point. The obscurity of his identity and how he looks also help with the whole hype about his music.
Check out his hit, House of Spirits, which was released in October this year:
3. Angel Haze
For someone who idolizes Nicki Minaj, we are so glad Angel Haze is SOOO much better than her. 3 weeks after releasing her EP, Reservations, she got all the major record labels knocking at her door and she ultimately went with Universal. What we like is her attitude - she would like to be seen as a rockstar than a rapper just because "rock stars get to do whatever they want. They don't have all this stigma attached to them – that you have to be a thug, you have to have been shot, you have to be so hard that no one ever suspects you're gay".
We like her, already. Check out her hit song, New York, below:
4. Gabrielle Aplin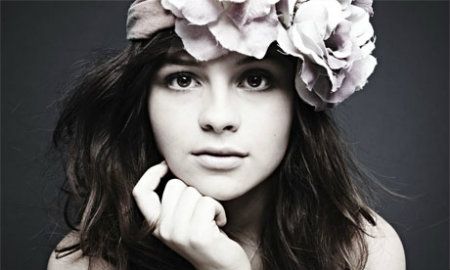 What is a music list without the inclusion of a singer/songwriter from the United Kingdom. Gabrielle Aplin is only 19 years old but damn, is she a talented one. She gained an online following after posting up acoustic covers of songs by bands such as Paramore and You Me At Six on YouTube, and a few EPs later, she finally signed to Parlophone Records started recording her debut album. She started getting mainstream attention when she was selected to soundtrack a John Lewis TV advert with a cover of Frankie Goes to Hollywood's The Power of Love. P.S. She sounds a little bit like Birdy.
You gotta love YouTube sometimes, hey. Check out Aplin's version of The Power of Love below: