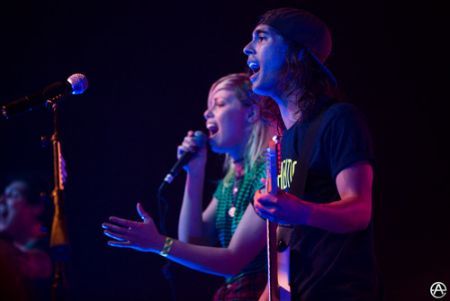 They are amongst rock's hottest bands at the moment; Fearless Records' pride and joy.
Be it Australian pop punk punchiness in the form of Tonight Alive or mexicore's main front runners Pierce The Veil, a duet between the adorable Jenna McDougall and Vic Fuentes can only be greeted with much approval.
Whilst the US was still reeling from the wrath that was this year's Warped Tour lineup, it could barely catch its breath before the Collide With The Sky Tour was announced. The tour paired both bands up along with occasional King For A Day partners, Sleeping With Sirens and fellow label mate Hands Like House, easily making it one of the most desired tours this fall.
With up to a whopping 33 dates across the US, it's no wonder Jenna pulled a Remembering Sunday for every time Pierce The Veil decided to perform Hold On Till May. Lucky for us, our friends at Alternative Press did us a favour by recording an exclusive acoustic session whose video quality surpasses most concert-goers' attempts.
Originally sang with Oh No Fiasco's Lindsey Stamey, Jenna managed to effortlessly hit the soaring notes with her more than capable vocals. Already, some are claiming Jenna's cover of sorts is better than the original.
What do you think?
You can watch the acoustic renditions of Hold On Till May with both Lindsey and Jenna below!