Where's Jamie Follese? That was probably what went through everyone's mind when Hot Chelle Rae (lead singer Ryan Follese, guitatist Nash Overstreet and bassist Ian Keaggy) entered the press conference room at Hilton Kuala Lumpur. The band's drummer was no where in sight.
Fret not. The members of the media were rest assured that Jamie is currently feeling under the weather and has getting some much needed rest. Fans can expect his appearance at today's showcase.
Despite the guys just landing in from down under (Perth to be exact), they did not show any signs of weariness and were eager to answer every question. They hinted on dropping some new music within the next six months, and talked about which action figure they'd like to be (between The Avengers and James Bond). Also, just because they originate from Nashville, they would like to put it out there that country music is not in the cards for them.
"It's funny because the music we listen to has always centered around pop," Nash said. "And l think the success of Tonight Tonight showed us that we could go in that direction and put out an album of music that we would listen to as well as play." Judging from the success they have garnered so far, this is exactly the type of music they should stick to - pop rock anthems.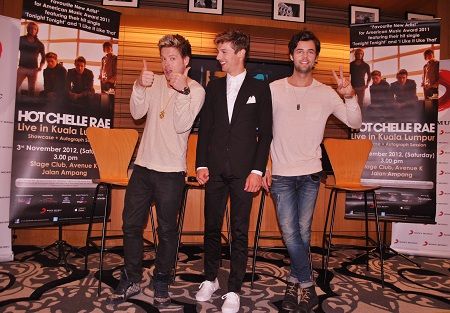 Oh, and did l mentioned Sony Music had a little surprised for the guys? Check out the video below.